Divert Disaster: Hire Security Guards from National Security Service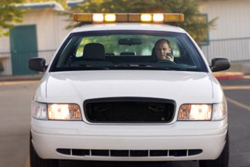 Divert Disaster: Hire Security Guards from National Security Service: You're on your way to your construction site thinking about how great it is that work is progressing on schedule. As you get closer, you see huge clouds of black smoke billowing just above your site's location. Thoughts of disaster and financial ruin flash through your mind as you see the fire trucks on your construction site. This nightmare could have been prevented if only you had hired security guards from National Security Service, who are professionally trained in Fire Watch Services and Construction Site Security.
Your Premises Could Be At Risk
Fire can rip through a building in minutes destroying everything in its path. Certain situations can put your premises at greater risk for fire including waiting for fire door sand alarms to be installed in your new building; existing fire alarms may be malfunctioning; the water could be shut off;or sparks from power tools could set your property ablaze. You need to take steps to keep your employees and property safe.
Protect Your People
National Security Service Fire Watch Security Guards protect people first. Specially trained in fire watch services, these security guards can spot fires, immediately notify the fire department and assist in the safe evacuation of individuals in a calm and expedient manner. And a quick response will help protect your property from damage and save you thousands of dollars in lost revenue.
Safeguard Your Construction Site
Thieves running rampant at your unattended construction site are happier than kids in a candy store. A flimsy fence is not going to stop criminals from stealing your expensive equipment, brand new shiny appliances if it's a site with new home construction, and costly materials like copper. These commodities are hard to trace and easy to sell. Copper theft alone is a $1 billion business in the United States.You can help prevent theft by hiring construction site security guards from a reputable security guard company like National Security Service that are trained in all aspects of construction site security.
Lost Time Costs Money
Vandalism at your construction site means scheduled services are delayed, work is disrupted and your time and money are wasted. Not only do construction site security guards act as a deterrent to criminals, but guards can control who is permitted onthe site, and keep visitors safe from injury by preventing entry to restricted areas.
You can't completely eliminate fire hazards or stop criminal activity, but you can prevent the costly consequences of fire damage and construction site theft by taking advantage of professional Fire Watch Services and Construction Site Security Services provided by National Security Service.